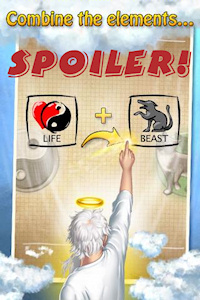 Lista kombinacji do gry Doodle God – 248 (+) elementów
Podobnie, jak miało to miejsce w przypadku gier typu Alchemia, tak i dla Doodle God prócz opisu przygotowaliśmy również pomoc dla graczy w postaci kompletnej listy elementów (248+, w sumie 380 pozycji wraz z dodatkami) i kombinacji potrzebnych do ich uzyskania.
Nasza lista została ułożona wg następującego systemu: pierwiastki ułożono według epizodów i dodatków, następnie według kategorii, a w tych w kolejności alfabetycznej.
Zawartość epizodów I i II może być nieco inna u każdego gracza, zależy w jakiej kolejności użył poszczególnych kombinacji. Jeśli zaś chodzi o grupy, zrezygnowaliśmy z nazywania ich. Niektóre poradniki w Internecie, w tym Doodle God Wiki, uparły się, by takowe etykiety wymyślić, mimo, iż sama gra kategorie traktuje dość luźno (np. chleb zaliczono do "Materiałów", a ser do "Jedzenia"). Zamiast nazw użyliśmy więc ikon wykorzystanych w aplikacji. Nazwy pierwiastków nie zostały przetłumaczone – Doodle God nie ma polskiej lokalizacji, uznaliśmy więc, że mijałoby się to z celem.
EPISODE I – BEGINNING
 
 
Elementy startowe
#
 
Element
 
Wynik
 
Wynik
1
 
Air
 
—
 
—
2
 
Earth
 
—
 
—
3
 
Fire
 
—
 
—
4
 
Water
 
—
 
—
 
#
 
Element
 
Wynik
 
Wynik
5
 
Ash
 
Fire + Dust
 
Tree + Fire
6
 
Dust
 
Air + Earth
 
—
7
 
Steam
 
Water + Air
 
—
8
 
Storm
 
Air + Energy
 
—
 
#
 
Element
 
Wynik
 
Wynik
9
 
Beast
 
Lizard + Earth
 
—
10
 
Bird
 
Air + Egg
 
—
11
 
Dinosaur
 
Egg + Earth
 
—
12
 
Domestic animal
 
Human + Beast
 
—
13
 
Fish
 
Water + Snake
 
—
14
 
Lizard
 
Swamp + Egg
 
—
15
 
Snake
 
Swamp + Worm
 
Sand + Worm
16
 
Turtle
 
Sand + Egg
 
—
17
 
Whale
 
Plankton + Fish
 
—
 
#
 
Element
 
Wynik
 
Wynik
18
 
Clay
 
Swamp + Sand
 
—
19
 
Glass
 
Fire + Sand
 
—
20
 
Limestone
 
Shell + Stone
 
—
21
 
Metal
 
Fire + Stone
 
—
22
 
Sand
 
Water + Stone
 
—
23
 
Stone
 
Air + Lava
 
—
 
#
 
Element
 
Wynik
 
Wynik
24
 
Blood
 
Warrior + Dragon
 
—
25
 
Egg
 
Stone + Life
 
—
26
 
Electricity
 
Metal + Energy
 
—
27
 
Energy
 
Air + Fire
 
Beast + Hunter
28
 
Life
 
Swamp + Energy
 
—
29
 
Poison
 
Snake + Tools
 
—
30
 
Seeds
 
2x Tree
 
Life + Sand
31
 
Sex
 
Human + Human
 
—
 
#
 
Element
 
Wynik
 
Wynik
32
 
Coal
 
Tree + Fire
 
—
33
 
Lava
 
Earth + Fire
 
—
34
 
Oil
 
Water + Coal
 
—
35
 
Plasma
 
Fire + Energy
 
—
36
 
Sulfur
 
Bacteria + Swamp
 
—
 
#
 
Element
 
Wynik
 
Wynik
37
 
Alcoholic
 
Human + Alcohol
 
—
38
 
Assassin
 
Human + Poisoned weapon
 
—
39
 
Corpse
 
Fire + Human
 
—
40
 
Demigod
 
Wizard + Energy
 
—
41
 
Hero
 
Warrior + Dragon
 
—
42
 
Human
 
Life + Golem
 
—
43
 
Hunter
 
Human + Weapon
 
—
44
 
Warrior
 
Hunter + Weapon
 
—
45
 
Wizard
 
Human + Energy
 
—
 
#
 
Element
 
Wynik
 
Wynik
46
 
Beer
 
Bread + Alcohol
 
—
47
 
Bread
 
Dough + Fire
 
—
48
 
Cigarette
 
Paper + Tobacco
 
—
49
 
Dough
 
Water + Flour
 
—
50
 
Feather
 
Bird + Hunter
 
—
51
 
Flour
 
Wheat + Stone
 
—
52
 
Meat
 
Bird + Hunter
 
Beast + Hunter
53
 
Wheat
 
Seeds + Field
 
Beast + Water
54
 
Wool
 
Beast + Hunter
 
—
 
#
 
Element
 
Wynik
 
Wynik
55
 
Bacteria
 
Swamp + Life
 
—
56
 
Beetle
 
Earth + Worm
 
—
57
 
Butterfly
 
Air + Worm
 
—
58
 
Moss
 
Swamp + Weeds
 
—
59
 
Plankton
 
Bacteria + Water
 
—
60
 
Scorpion
 
Beetle + Sand
 
—
61
 
Shell
 
Stone + Plankton
 
—
62
 
Weeds
 
Water + Life
 
—
63
 
Worm
 
Bacteria + Swamp
 
—
 
#
 
Element
 
Wynik
 
Wynik
64
 
Fern
 
Swamp + Moss
 
—
65
 
Grass
 
Earth + Moss
 
—
66
 
Reed
 
Swamp + Grass
 
—
67
 
Tobacco
 
Fire + Grass
 
—
68
 
Tree
 
Earth + Seeds
 
—
 
#
 
Element
 
Wynik
 
Wynik
69
 
Book
 
Paper + Feather
 
—
70
 
Bricks
 
Clay + Fire
 
—
71
 
Cement
 
Clay + Limestone
 
—
72
 
Ceramics
 
Clay + Human
 
—
73
 
Clothes
 
Fabric + Human
 
—
74
 
Fabric
 
Tools + Wool
 
—
75
 
Field
 
Earth + Tools
 
—
76
 
Paper
 
Tools + Reed
 
—
77
 
Wood
 
Tree + Tools
 
—
 
#
 
Element
 
Wynik
 
Wynik
78
 
Dragon
 
Dinosaur + Fire
 
—
79
 
Ghost
 
Life + Ash
 
—
80
 
Ghoul
 
Zombie + Corpse
 
—
81
 
Golem
 
Clay + Life
 
—
82
 
Phoenix
 
Bird + Fire
 
—
83
 
Vampire
 
Human + Blood
 
—
84
 
Werewolf
 
Vampire + Beast
 
—
85
 
Zombie
 
Life + Corpse
 
—
 
#
 
Element
 
Wynik
 
Wynik
86
 
Boiler
 
Metal + Steam
 
—
87
 
Hut
 
Stone + Human
 
—
88
 
Poisoned weapon
 
Weapon + Poison
 
—
89
 
Steam-engine
 
Boiler + Coal
 
—
90
 
Tools
 
Human + Metal
 
—
91
 
Weapon
 
Tools + Metal
 
—
 
#
 
Element
 
Wynik
 
Wynik
92
 
Boat
 
Wood + Water
 
—
93
 
Cart
 
Wood + Wheel
 
—
94
 
Chariot
 
Beast + Cart
 
—
95
 
Locomotive
 
Steam-engine + Cart
 
—
96
 
Wheel
 
Wood + Tools
 
—
 
#
 
Element
 
Wynik
 
Wynik
97
 
Alcohol
 
Water + Fire
 
—
98
 
Quicksilver
 
Metal + Water
 
—
99
 
Swamp
 
Water + Earth
 
—
100
 
Vodka
 
Alcohol + Water
 
—
EPISODE II – TECHNOLOGY
 
 
Element startowy
#
 
Element
 
Wynik
 
Wynik
101
 
Void
 
—
 
—
 
#
 
Element
 
Wynik
 
Wynik
102
 
Radiation
 
2x Radio wave
 
—
103
 
Radio wave
 
Void + Electricity
 
—
 
#
 
Element
 
Wynik
 
Wynik
104
 
Dolphin
 
Fish + Beast
 
—
 
#
 
Element
 
Wynik
 
Wynik
105
 
Fertilizer
 
Domestic animal + Grass
 
—
106
 
Gold
 
Metal + Philosophers' stone
 
—
107
 
Plutonium
 
Radiation + Metal
 
—
 
#
 
Element
 
Wynik
 
Wynik
108
 
Philosophers' stone
Demigod + Quicksilver
 
—
 
#
 
Element
 
Wynik
 
Wynik
109
 
Saltpeter
 
Limestone + Fertilizer
 
—
110
 
Sun
 
Plasma + Void
 
—
 
#
 
Element
 
Wynik
 
Wynik
111
 
Cyborg
 
Human + Computer
 
—
 
#
 
Element
 
Wynik
 
Wynik
112
 
Milk
 
Domestic animal + Grass
 
—
 
#
 
Element
 
Wynik
 
Wynik
113
 
Mushroom
 
Earth + Weeds
 
—
 
#
 
Element
 
Wynik
 
Wynik
114
 
Apple
 
Flower + Tree
 
—
115
 
Coffee
 
Seeds + Energy
 
—
116
 
Flower
 
Sun + Grass
 
—
117
 
Palmtree
 
Tree + Sand
 
—
118
 
Sunflower
 
Flower + Sun
 
—
 
#
 
Element
 
Wynik
 
Wynik
119
 
Concrete
 
Water + Cement
 
—
 
#
 
Element
 
Wynik
 
Wynik
120
 
Thunderbird
 
Storm + Bird
 
—
121
 
Treant
 
Tree + Life
 
—
 
#
 
Element
 
Wynik
 
Wynik
122
 
CD
 
Laser + Book
 
—
123
 
Cellphone
 
Computer + Radio wave
 
—
124
 
Computer
 
TV + Book
 
—
125
 
Internet
 
2x Computer
 
—
126
 
Laser
 
Radio wave + Fire
 
—
127
 
Lightbulb
 
Void + Glass
 
—
128
 
Nuclear bomb
 
Plutonium + Weapon
 
—
129
 
Rocket
 
Void + Airplane
 
—
130
 
Satelite
 
Void + Rocket
 
—
131
 
TV
 
Radio wave + Lightbulb
 
—
 
#
 
Element
 
Wynik
 
Wynik
132
 
Firearm
 
Weapon + Gunpowder
 
—
133
 
Gunpowder
 
Saltpeter + Sulfur
 
—
134
 
House
 
Bricks + Concrete
 
—
135
 
Skyscraper
 
House + Glass
 
—
 
#
 
Element
 
Wynik
 
Wynik
136
 
Airplane
 
Car + Air
 
—
137
 
Car
 
Cart + Oil
 
—
138
 
Frigate
 
Ship + Fabric
 
—
139
 
Ship
 
Boat + Wood
 
—
140
 
Steamship
 
Ship + Steam-engine
 
—
EPISODE III – MODERN AGE
 
 
Element startowy
#
 
Element
 
Wynik
 
Wynik
141
 
Commandments
 
—
 
—
 
#
 
Element
 
Wynik
 
Wynik
142
 
Absinthe
 
Alcohol + Grass
 
—
143
 
B-52
 
Coffee + Vodka
 
—
144
 
Censored
 
2x Sex
 
—
145
 
Hangover
 
Alcoholic + Money
 
—
146
 
Molotov Cocktail
 
Vodka + Fire
 
—
147
 
Rum
 
Pirate + Alcohol
 
—
148
 
Russian roulette
 
Firearm + Vodka
 
—
149
 
Tavern
 
House + Alcohol
 
—
150
 
Tequila
 
Vodka + Worm
 
—
151
 
White Russian
 
Vodka + Milk
 
—
 
#
 
Element
 
Wynik
 
Wynik
152
 
Caviar
 
Fish + Egg
 
—
153
 
Cheese
 
Milk + Bacteria
 
—
154
 
Cookies
 
Bread + Sugar
 
—
155
 
Freezer
 
Ice + Mechanism
 
—
156
 
Ice
 
Glass + Water
 
—
157
 
Ice-cream
 
Ice + Milk
 
—
158
 
Pie
 
Dough + Apple
 
—
159
 
Salt
 
Sea + Sun
 
—
160
 
Steak
 
Meat + Fire
 
—
161
 
Sugar
 
Reed + Field
 
—
 
#
 
Element
 
Wynik
 
Wynik
162
 
Astronaut
 
Rocket + Human
 
—
163
 
Hacker
 
Computer + Virus
 
—
164
 
Journalist
 
Human + Typewriter
 
—
165
 
Knowledge
 
Human + Book
 
—
166
 
Medicine
 
Virus + Knowledge
 
—
167
 
Pirate
 
Ship + Alcoholic
 
—
168
 
Policeman
 
Soldier + Law
 
—
169
 
Scientist
 
Human + Knowledge
 
—
170
 
Soldier
 
Warrior + Firearm
 
—
171
 
Work
 
Human + Money
 
—
 
#
 
Element
 
Wynik
 
Wynik
172
 
Ant
 
Work + Beetle
 
—
173
 
Cat
 
Beast + House
 
—
174
 
Dog
 
Beast + House
 
—
175
 
Octopus
 
Fish + Knowledge
 
—
176
 
Rat
 
Beast + Medicine
 
—
 
#
 
Element
 
Wynik
 
Wynik
177
 
Alien
 
Void + Life
 
—
178
 
Antibiotics
 
Bacteria + Medicine
 
—
179
 
Clock
 
Sand + Glass
 
—
180
 
Credit card
 
Money + Debt
 
—
181
 
Debt
 
Bank + Money
 
—
182
 
Mechanism
 
Tools + Law
 
—
183
 
Money
 
Gold + Paper
 
—
184
 
Typewriter
 
Mechanism + Book
 
—
185
 
UFO
 
Alien + Rocket
 
—
186
 
Virus
 
Human + Bacteria
 
—
 
#
 
Element
 
Wynik
 
Wynik
187
 
Bank
 
House + Money
 
Skyscraper + Money
188
 
Death Metal
 
Corpse + Electricity
 
—
189
 
Fun
 
Human + Sex
 
—
190
 
Games
 
Law + Fun
 
—
191
 
Law
 
Religion + Human
 
—
192
 
Music
 
Human + Reed
 
—
193
 
Religion
 
Commandments + Human
 
—
194
 
Rock-n-roll
 
Music + Alcohol
 
—
195
 
Sin
 
Religion + Human
 
—
 
#
 
Element
 
Wynik
 
Wynik
196
 
Sea
 
2x Water
 
—
EPISODE IV – WORLD OF MAGIC
 
 
Element startowy
#
 
Element
 
Wynik
 
Wynik
197
 
Magic
 
—
 
—
 
#
 
Element
 
Wynik
 
Wynik
198
 
Unicorn
 
Beast + Magic
 
—
 
#
 
Element
 
Wynik
 
Wynik
199
 
Adamantite
 
Drow + Metal
 
—
200
 
Mithril
 
Elf + Metal
 
—
201
 
Silver
 
Astral + Metal
 
—
 
#
 
Element
 
Wynik
 
Wynik
202
 
Astral
 
Chaos + Void
 
—
 
#
 
Element
 
Wynik
 
Wynik
203
 
Chaos
 
Life + Void
 
—
204
 
Darkness
 
Magic + Void
 
—
205
 
Death
 
Energy + Darkness
 
—
206
 
Demon
 
Darkness + Beast
 
—
207
 
Shadow
 
Light + Darkness
 
—
208
 
Underground
 
Earth + Darkness
 
—
 
#
 
Element
 
Wynik
 
Wynik
209
 
Angel
 
Light + Life
 
—
210
 
Healing
 
Priest + Prayer
 
—
211
 
Light
 
Magic + Void
 
—
212
 
Order
 
Life + Void
 
—
213
 
Prayer
 
Priest + Magic
 
—
214
 
Resurrection
 
Healing + Death
 
—
 
#
 
Element
 
Wynik
 
Wynik
215
 
Bard
 
Music + Magic
 
—
216
 
Druid
 
Human + Tree
 
—
217
 
Necromancer
 
Wizard + Zombie
 
—
218
 
Paladin
 
Warrior + Priest
 
—
219
 
Priest
 
Magic + Religion
 
—
220
 
Rogue
 
Law + Assassin
 
—
 
#
 
Element
 
Wynik
 
Wynik
221
 
Cone of cold
 
Spell + Ice
 
—
222
 
Fireball
 
Spell + Fire
 
—
223
 
Illusion
 
Spell + Air
 
—
224
 
Potion
 
Water + Magic
 
—
225
 
Scroll
 
Magic + Paper
 
—
226
 
Spell
 
Magic + Knowledge
 
—
227
 
Spell book
 
Spell + Book
 
—
228
 
Teleport
 
Spell + Astral
 
—
229
 
Wand
 
Weapon + Magic
 
—
 
#
 
Element
 
Wynik
 
Wynik
230
 
Drow
 
Elf + Darkness
 
—
231
 
Duergar
 
Dwarf + Darkness
 
—
232
 
Dwarf
 
Human + Stone
 
—
233
 
Elf
 
Human + Magic
 
—
234
 
Goblin
 
Human + Swamp
 
—
235
 
Half-elf
 
Human + Elf
 
—
236
 
Illithid
 
Astral + Death
 
—
237
 
Modron
 
Life + Mechanism
 
—
238
 
Orc
 
Human + Swamp
 
—
 
#
 
Element
 
Wynik
 
Wynik
239
 
Castle
 
House + Armor
 
—
240
 
Tower
 
Wizard + House
 
—
 
#
 
Element
 
Wynik
 
Wynik
241
 
Armor
 
Human + Metal
 
—
242
 
Axe
 
Weapon + Dwarf
 
—
243
 
Bow
 
Weapon + Elf
 
—
244
 
Claws
 
Weapon + Beast
 
—
245
 
Crossbow
 
Weapon + Human
 
—
246
 
Hammer
 
Weapon + Dwarf
 
—
247
 
Mace
 
Weapon + Priest
 
—
248
 
Sword
 
Weapon + Human
 
—
QUEST – RUN, SANTA, RUN
 
 
Elementy startowe 
#
 
Element
 
Wynik
1
 
Metal
 
—
2
 
Sand
 
—
3
 
Fire
 
—
4
 
Magic
 
—
5
 
Void
 
—
6
 
Water
 
—
7
 
Chaos
 
—
8
 
Death
 
—
9
 
Human
 
—
10
 
Music
 
—
11
 
Religion
 
—
12
 
Worm
 
—
13
 
Grass
 
—
14
 
Tree
 
—
15
 
Wheat
 
—
 
 
 
#
 
Element
 
Wynik
16
 
Alcohol
 
Water + Fire
17
 
Beer
 
Philosophers' stone + Water
18
 
Resinthe
 
Alcohol + Grass
19
 
Rum
 
Pirate + Alcohol
20
 
Tequila
 
Alcohol + Worm
21
 
Vodka
 
Alcohol + Water
 
 
 
#
 
Element
 
Wynik
22
 
Gold
 
Philosophers' stone + Metal
23
 
Quicksilver
 
Metal + Water
 
 
 
#
 
Element
 
Wynik
24
 
Philosophers' stone
Magic + Quicksilver
25
 
Sun
 
Void + Fire
 
 
 
#
 
Element
 
Wynik
26
 
Joker
 
Assassin + Chaos
27
 
Sacrifice
 
Religion + Death
 
 
 
#
 
Element
 
Wynik
28
 
Assassin
 
Human + Weapon
29
 
Brains
 
Zombie + Human
30
 
Pirate
 
Assassin + Water
31
 
Zombie
 
Human + Death
 
 
 
#
 
Element
 
Wynik
32
 
Bread
 
Human + Wheat
33
 
Crystal ball
 
Magic + Glass
34
 
Glass
 
Sand + Fire
35
 
Guitar
 
Music + Wood
36
 
Sunglasses
 
Sun + Glass
37
 
Weapon
 
Human + Metal
38
 
Wood
 
Human + Tree
 
 
 
#
 
Element
 
Wynik
39
 
Death Star
 
Void + Weapon
QUEST – SAVE THE PRINCESS
 
 
Elementy startowe
 
 
 
#
 
Element
 
Wynik
 
Wynik
1
 
King
 
—
 
—
2
 
Human
 
—
 
—
3
 
Priest
 
—
 
—
4
 
Rogue
 
—
 
—
5
 
Magic
 
—
 
—
6
 
Dwarf
 
—
 
—
7
 
Book
 
—
 
—
8
 
Dragon
 
—
 
—
9
 
Axe
 
—
 
—
10
 
Sword
 
—
 
—
 
 
 
 
 
#
 
Element
 
Wynik
 
Wynik
11
 
Ash
 
Wizard + Trap
 
Adventurers + Dragon
 
 
 
 
 
#
 
Element
 
Wynik
 
Wynik
12
 
Gold
 
Adventurers + Gold
 
Adventurers + Maze
13
 
Mountain
 
Quest + Dragon
 
—
 
 
 
 
 
#
 
Element
 
Wynik
 
Wynik
14
 
Experience
 
Adventurers + Gold
 
Adventurers + Maze
15
 
Maze
 
Wizard + Trap
 
—
16
 
Quest
 
King + Adventurers
 
—
 
 
 
 
 
#
 
Element
 
Wynik
 
Wynik
17
 
Dead dragon
 
Party + Dragon
 
—
18
 
Lair
 
Mountain + Dragon
 
—
19
 
Trap
 
Secret door + Key
 
—
 
 
 
 
 
#
 
Element
 
Wynik
 
Wynik
20
 
Steak
 
Adventurers + Dragon
 
Warrior + Dragon
 
 
 
 
 
#
 
Element
 
Wynik
 
Wynik
21
 
Princess
 
Adventurers + Maze
 
—
 
 
 
 
 
#
 
Element
 
Wynik
 
Wynik
22
 
Paladin
 
Warrior + Priest
 
—
23
 
Wizard
 
Elf + Spell book
 
Human + Spell book
 
 
 
 
 
#
 
Element
 
Wynik
 
Wynik
24
 
Spell book
 
Magic + Book
 
—
 
 
 
 
 
#
 
Element
 
Wynik
 
Wynik
25
 
Elf
 
Magic + Human
 
—
 
 
 
 
 
#
 
Element
 
Wynik
 
Wynik
26
 
Key
 
Dead dragon + Party
 
—
27
 
Secret door
 
Rogue + Lair
 
—
 
 
 
 
 
#
 
Element
 
Wynik
 
Wynik
28
 
Adventurers
 
Warrior + Wizard
 
—
29
 
Party
 
Wizard + Paladin
 
—
QUEST – SINS VS. VIRTUES
 
 
Elementy startowe
#
 
Element
 
Wynik
 
Wynik
1
 
Energy
 
—
 
—
2
 
Fun
 
—
 
—
3
 
Knowledge
 
—
 
—
4
 
Life
 
—
 
—
5
 
Cellphone
 
—
 
—
6
 
Death
 
—
 
—
7
 
Money
 
—
 
—
8
 
Sin
 
—
 
—
9
 
Light
 
—
 
—
10
 
Order
 
—
 
—
11
 
Corpse
 
—
 
—
12
 
Human
 
—
 
—
13
 
Priest
 
—
 
—
14
 
Religion
 
—
 
—
15
 
Scientist
 
—
 
—
16
 
Sex
 
—
 
—
17
 
Wizard
 
—
 
—
18
 
Work
 
—
 
—
19
 
Alcohol
 
—
 
—
20
 
Bread
 
—
 
—
21
 
Grass
 
—
 
—
22
 
Meat
 
—
 
—
23
 
Vodka
 
—
 
—
24
 
Water
 
—
 
—
25
 
Weeds
 
—
 
—
26
 
Envy
 
—
 
—
27
 
Gluttony
 
—
 
—
28
 
Greed
 
—
 
—
29
 
Heresy
 
—
 
—
30
 
Lust
 
—
 
—
31
 
Murder
 
—
 
—
32
 
Pride
 
—
 
—
33
 
Sloth
 
—
 
—
34
 
Theft
 
—
 
—
35
 
Wrath
 
—
 
—
 
#
 
Element
 
Wynik
 
Wynik
36
 
Calmness
 
Energy + Virtue
 
—
37
 
Faith
 
Human + Religion
 
—
38
 
Hope
 
Faith + Virtue
 
—
39
 
Humility
 
Wrath + Virtue
 
—
40
 
Love
 
Human + Human
 
—
41
 
Resurrection
 
Corpse + Light
 
Death + Life
42
 
Salvation
 
Human + Faith
 
—
43
 
Virtue
 
Sin + Light
 
—
 
#
 
Element
 
Wynik
 
Wynik
44
 
Birth
 
Human + Human
 
—
45
 
Sublimation
 
Sex + Knowledge
 
—
 
#
 
Element
 
Wynik
 
Wynik
46
 
Abstention
 
Alcohol + Order
 
Vodka + Order
47
 
Diet
 
Water + Bread
 
—
48
 
Vegetarianism
 
Diet + Weeds
 
Diet + Grass
 
#
 
Element
 
Wynik
 
Wynik
49
 
Altruism
 
Free apps + Cellphone
 
—
50
 
Assistance
 
Human + Virtue
 
—
51
 
Charity
 
Donation + Money
 
—
52
 
Donation
 
Fun + Money
 
—
53
 
Free apps
 
Gift + Cellphone
 
—
54
 
Generosity
 
Charity + Human
 
—
55
 
Gift
 
Human + Money
 
—
56
 
Tolerance
 
Human + Virtue
 
—
 
#
 
Element
 
Wynik
 
Wynik
57
 
Chastity
 
Sex + Priest
 
—
58
 
Cheerfulness
 
Human + Fun
 
—
59
 
Continence
 
Sex + Scientist
 
Sex + Wizard
60
 
Diligence
 
Human + Work
 
—
61
 
Discipline
 
Human + Order
 
—
62
 
Fasting
 
Diet + Religion
 
—
63
 
Joy
 
Fun + Virtue
 
—
64
 
Modesty
 
Pride + Virtue
 
—